At this point, ChatGPT has dug its way into almost every device conceivable. From using ChatGPT on Siri to having it on your Apple Watch, the AI chatbot is everywhere. With the launch of the new GPT-4 language model from OpenAI, interest has only risen. However, for many ChatGPT still remains a dream for Whatsapp users. However, that is now finally a reality, as you can use the AI bot on Whatsapp without any complicated steps. So without any further ado, let's begin learning how to use ChatGPT on WhatsApp.
Best Methods to Use ChatGPT on WhatsApp (2023)
How to Use ChatGP on WhatsApp Using Jinni AI
Without wasting any time, let's learn how you can start using ChatGPT in WhatsApp on your iPhone and Android phone. We will first be using a ChatGPT-powered WhatsApp bot called Jinni, which has been integrated into the messaging app. Here's how it works:
1. On your mobile, visit the official Ask Jinni website using the provided link. Tap the "Launch WhatsApp" button, and your WhatsApp will automatically open. Tap the Open button if it asks for permission.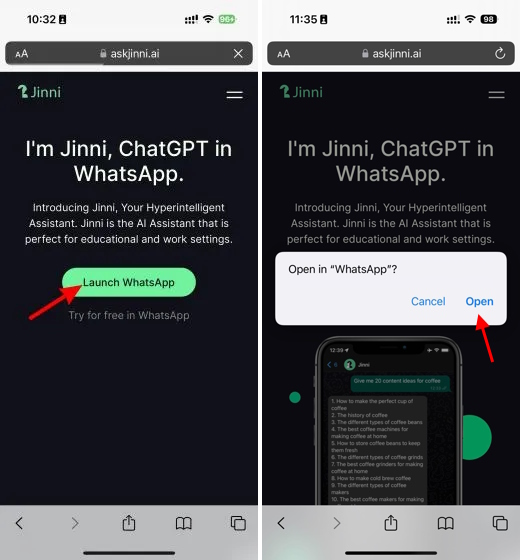 2. Your Whatsapp will now automatically open in the Jiini chat screen. Just type "Hello" here, and it will immediately respond.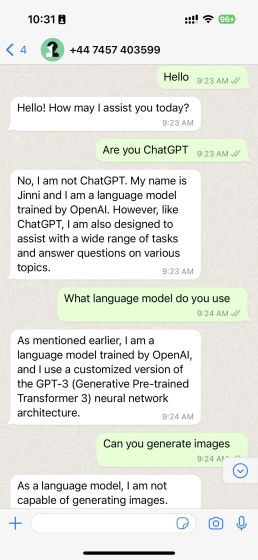 3. And just like that, you can now talk to Jinni in WhatsApp as you would with ChatGPT without any problems. Do note that you only have 10 free messages before Jinni says you are out of wishes. However, you can purchase a paid subscription for $5.99/month. Nonetheless, try out Jinni and get ChatGPT on your WhatsApp.
How to Use ChatGPT on WhatsApp Using Shmooz AI
The next service we will be using is Shmooz AI, a website that integrates GPT-3 right into their bot making it act like a mediator. While it doesn't allow people to use their API, you can go on and set Shmooz up using the steps below to use ChatGPT on WhatsApp.
1. On your mobile, visit the official Shmooz AI website using the link here. Tap the "Start Shmoozing" button, and your WhatsApp will automatically open.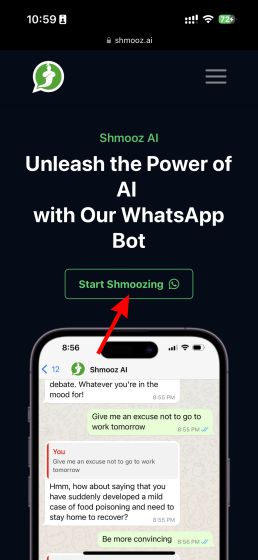 2. Here, tap the "Continue to chat" button, and you will be led to the chat screen right away.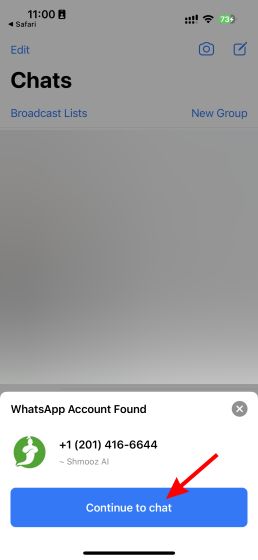 3. A message will be auto-typed in the message box for you. Simply send it, and the bot will respond.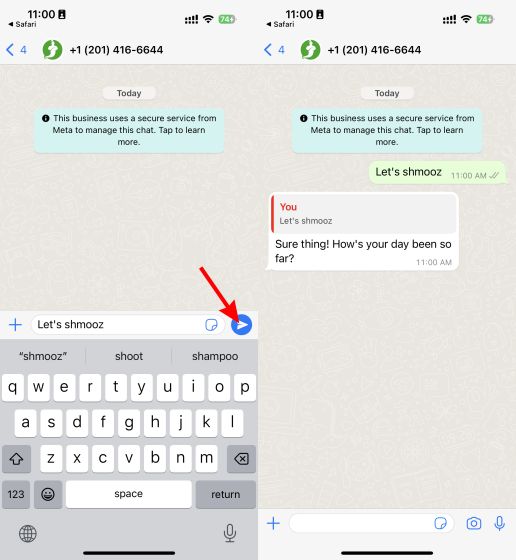 4. And that's it! You can now talk to Shmooz AI in WhatsApp like you would with ChatGPT, and it will respond right away. As before, do note that Shmooz is a paid service with only 5 free messages. You then need to sign up for a premium tier, which starts at $9.99 per month and gives unlimited access.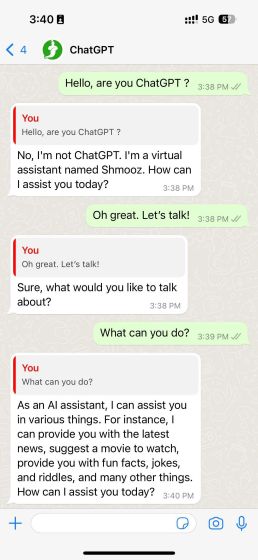 Shmooz AI for WhatsApp: Initial Impressions
Since Shmooz AI itself is essentially a chatbot, I decided to open my best ChatGPT prompts articles and use a few of them to see how it responds. I started by feeding it the ingredients I had left in my kitchen. Shmooz whipped up a recipe for a pasta carbonara in a little over 3 seconds. I then moved on to music and asked it to write an 8-bar pop chord progression. It even composed classical music without issues. I finally moved on to generating images using AI Shmooz and came out with some masterpieces easily.
Throughout my time using Shmooz AI, I encountered no downtime and its responses were super quick. It could do all I asked for it easily without issues. Shmooz also promises that the AI chatbot is private and secure and that appropriate measures have been implemented to protect users' information.
Bonus: More ChatGPT WhatsApp Bots
Besides the interesting ChatGPT-powered WhatsApp bots listed above, we also found some other cool bots that provide access to ChatGPT within the messaging app. However, be aware that these bots are in high demand and might go offline or render slower responses without notice. Some of these bots are:
MobileGPT (Visit): One of the first few WhatsApp bots to use GPT-4, MobileGPT is another service you can use to have chats with and get answers to all your questions. MobileGPT can even generate images for you, which are quite impressive.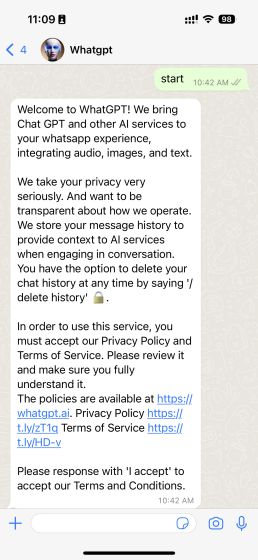 Use ChatGPT on Whatsapp Without Complicated Steps
We hope this guide helped you in setting up ChatGPT on your WhatsApp account without any problems. As mentioned above, you have 20 free messages so make them count! Once done there, hop on to your PC and have fun with the bot with these best ChatGPT prompts. Or we suggest learning how to access ChatGPT 4 for free. Bored of the bot already? Check out these best ChatGPT alternatives instead. So, how's your experience with using ChatGPT on WhatsApp? Drop your thoughts in the comments below!