Midjourney is currently one of the best AI art generators out there. With the service creating ultra-realistic AI images from scratch, it's no secret that people are flocking over to Discord to try it out. However, Midjourney got even better with the release of its newest V5 upscaler, which comes with a host of improvements, including much more realistic image quality. If you are already part of the Midjourney tribe and want to learn how to use the latest V5 engine, you've come to the right place. We have compiled a dedicated guide showing you exactly how to enable the latest Midjourney V5 upscaler.
Table of Contents
In order to use Midjourney version 5, you must fulfill certain prerequisites like joining the Midjourney Discord server and getting its paid subscription. We are assuming you already have them before you proceed with these steps. However, if you don't, check out our guide on how to buy a Midjourney subscription and use it to create AI art. With that said, follow the steps below to enable Midjourney V5.
Step 1: Open Midjourney Settings Page
On the Midjourney Discord server, click on any text channel titled "newbies" in the left sidebar. Now, type out "/settings" in the message box and press Enter.
Step 2: Enable Midjourney V5 in Discord
You will now see a host of settings pop up on the screen. Amid all the other settings, you will see an option called MJ versions. Simply click on "MJ Version 5" to choose the latest Midjourney upscaler.
Midjourney V5 will now enable itself. You can see the same with the updated suffix and highlighted button.

And that's it! Midjourney Version 5 is now enabled on your account. From now onwards, all image generations will happen using the V5 upscaler and should look much better!
Midjourney V5: Impressions and Comparison
As mentioned above, Midjourney's newest upscaler brings improvements in several different areas. For starters, V5 offers more detailed and higher-resolution images. For context – Our Midjourney V4 output image was 1.6MB while the new V5 image was a large 5.6 MB file. However, that's not it. This also translates to V5 having a (2048 x 2048) dimension compared to V4's (1024 x 1024).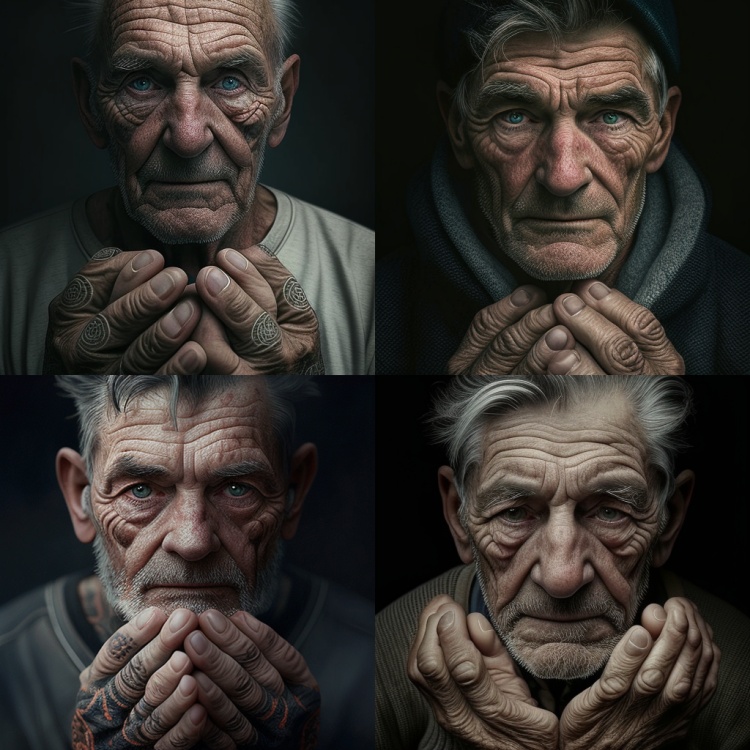 Midjourney V5 also pays attention to nuanced details like hands and wrinkles. This is in part to version 5 having better control over image clarity and precision. That means Midjourney version 5 outputs an overall better-looking and more realistic image with the same prompt.
We tried out the same when we asked Midjourney to create a portrait of a man with special attention to his hands. As you can tell yourself, Midjourney V5 is a sizeable improvement over the former. The hands and facial details are more pronounced and the image generator has produced better images compared to V4, which muddles up the hands. Overall, Midjourney V5 is an upscaler people should definitely turn on provided they have a paid subscription.
So what are your thoughts on Midjourney version 5? Drop them in the comments section below!