Brokers and MGAs
Jump to winners | Jump to methodology
Thriving in a hard market
Wholesale brokers and MGAs are thriving by being quick and nimble in meeting clients' needs. IBA's 5-Star winners are at the cutting edge of that, leading the way with their impeccable performance levels.
"In general, the segment is experiencing rapid growth in premium written right now, which indicates that they're important to the industry," says Brady Kelley, the executive director of the Wholesale & Specialty Insurance Association. He also explains how AM Best's 2022 market segment was reported:
• 25% growth in surplus lines direct premiums written in 2021
• new annual record of $82.7 billion in 2021
• 4.1% increase in the surplus lines premium for the 15 states with surplus lines stamping offices
• 6.9% increase in overall transactions
"The segment is experiencing rapid growth in premium written right now, which indicates that they're important to the industry"


Brady Kelley, Wholesale & Specialty Insurance Association
What makes a top wholesale broker and MGA in 2023?
In the survey, respondents ranked the importance of certain factors when choosing a wholesale broker and MGA.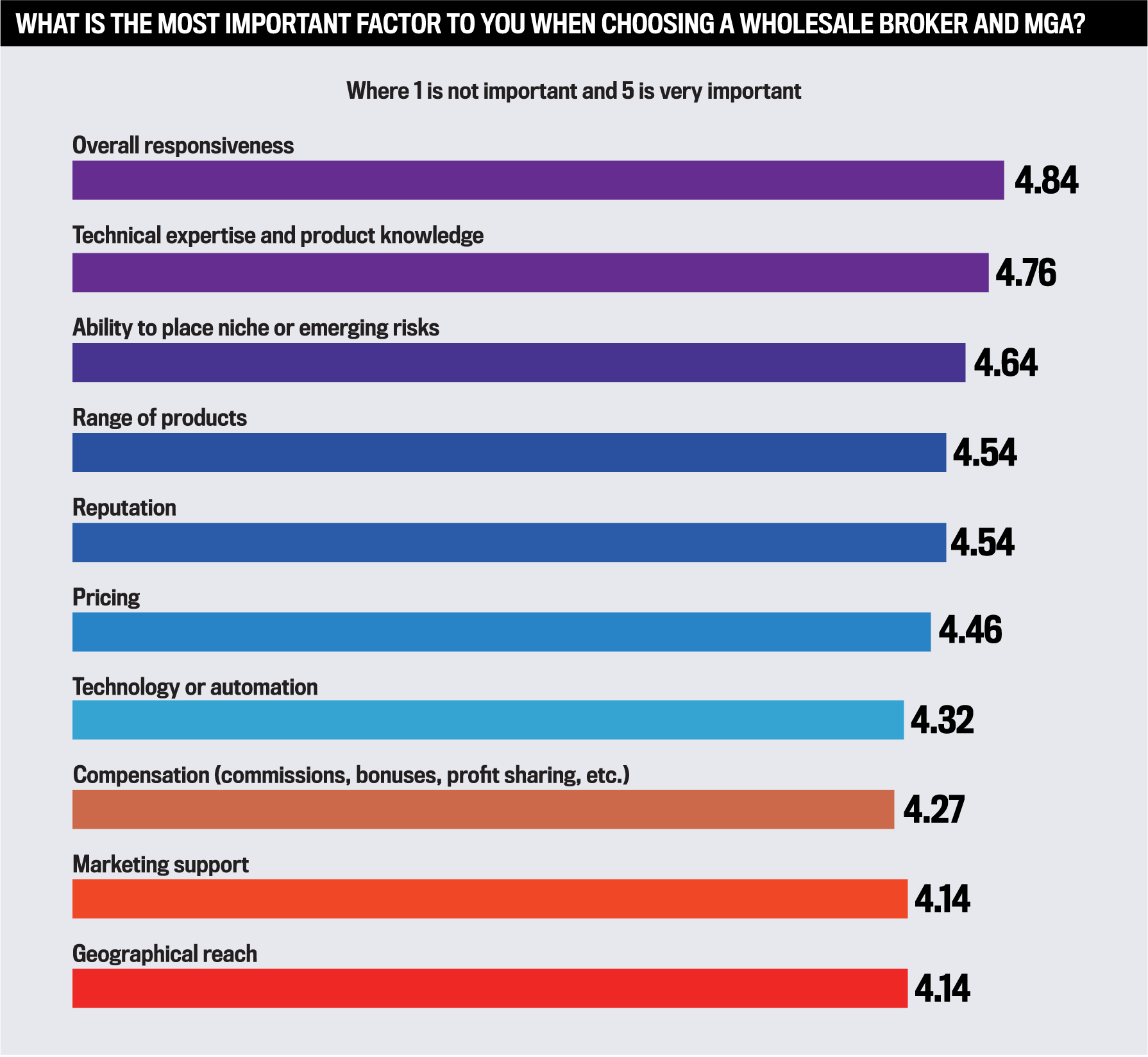 "We all know we have to have service, pricing and product," explains Peter Burrous, chief marketing officer of winner Johnson & Johnson (J&J).
"And then you've got to have value-added offerings. And to us, that is technology. We don't go outside; we write everything in house. We can zig and zag quickly; that way we're nimble. So, technology is a huge driving force at J&J. And then our second area would be sales and marketing," he adds.
According to Bruce Peddle, divisional president of winner Jencap, the survey data hierarchy is a "laundry list of usual suspects", but technology is a game changer, enabling underwriters to respond quickly and highlighting the importance of marketing support.
"It's also important to make sure our reputation out there in the marketplace is representative of the Jencap way," he adds. "I think reputation is a big factor."
Meanwhile, Matt Grossberg, CEO of Integrated Specialty Coverages (ISC), another winner, refers to the list as "table stakes" that you need to be competitive in today's market.
"We try to utilize our technology as much as we possibly can," he says. "But it comes down to people and the people behind the scenes. We think we have some really special folks who know their products incredibly well, and we try to line up each product with an underwriter who's best in class."
How did the 5-Star Wholesale Brokers and MGAs beat the rest?
Grossberg and the ISC team can rest on their laurels with their IBA 5-Star awards, which include bronze medals for construction and hospitality specialties.
Grossberg attributes the wins to their proprietary technology platform.
"We have 37 developers and engineers on staff and a variety of data scientists who we use to bring in third-party datasets, which we ingest and clean, and we try and make it as easy as possible for brokers to submit business to us," he explains. "Right now, you can bind and issue by answering about seven questions on our system. Our loss ratios show that we're collecting enough data to drive loss ratios down at the same time. So, we're really excited about it. We think we have a really good service platform and really talented individuals behind it. It's nice to be acknowledged for it."
Jencap captured bronze medals in general liability and small business, which Peddle corresponds to a concentration on optimizing business processes. Regarding small business, he says, "We're really focused not only on the basics – broad market access, technical expertise and superior customer service – but also making sure all those things work well in terms of being able to turn around quotes quickly and bring policy documents back to the retail agencies in a timely manner." As one of the top wholesale brokers in the country in 2022, Jencap wrote more than $3 billion in premium.
Burrous was surprised to find out that J&J had won a silver medal for marine. Not that he doesn't have high regard for the specialty, but because J&J has been devoting resources to other areas, such as a national flood program.
"Marine is still very important to us," he says. "It's a growing segment for us. We've had marine for many years; we're just putting a few more resources into it now. We're proud of what we do in the marine area. We have a growing marine business. And we will continue to expand with markets and personnel to push that here at J&J."
J&J also won a Brokers' Pick medal for homeowners insurance, followed by BTIS for general liability, Brown & Riding for professional liability, and Gorst & Compass for general liability.
"In the wholesale and MGA world, you want to be the one consolidating, not the one consolidated"


Peter Burrous, Johnson & Johnson
Longevity is key for the 2023 IBA 5-Star Wholesale Brokers and MGAs
IBA's winners are concerned about another trend in the wholesale broker and MGA spaces: mergers and acquisitions (M&A).
"The M&A world is rampant," says Burrous. "No one wants to be the part that got gobbled up."
For J&J, it's all about sustaining longevity. "We're over 90 years old," Burrous adds. "We intend to stay here and be family held, which we still are today. In the wholesale and MGA world, you want to be the one consolidating, not the one consolidated."
Peddle and the Jencap team have a little different perspective.
"The consolidation has been obviously ongoing for years," Peddle says. "Jencap was one of the most acquisitive companies out there in the wholesale space over the past seven years, and it will be interesting to see how the changing economic and interest rate environment will impact M&A activity going forward."
Grossberg adds, "I think the consolidation in the marketplace has been pretty overwhelming. There are a lot of private equity players now in the space, and their hold periods differ. Lots of different, unique opportunities are going to start to come up in the marketplace over the course of the next couple years. It'll be interesting to see who emerges from those bigger and stronger and who comes together – it's a transformational opportunity."
"It's also important to make sure our reputation out there in the marketplace is representative of the Jencap way. I think reputation is a big factor"


Bruce Peddle, Jencap

Evolving trends for wholesale brokers and MGAs
Most insurance products that address emerging or evolving risks tend to incubate in the wholesale, specialty and surplus lines segments. For example, one well-established line of coverage is property insurance.
"Risk profiles are impacted dramatically by Mother Nature," Kelley says. "Losses arising from things like wildfires, flooding and windstorms constantly change the standard market's risk appetite, which causes the ebb and flow of property insurance coverages between the standard and surplus lines markets."
J&J provides niche policies in personal lines for homeowners, floods, and marine, and in commercial lines for property and casualty (P&C), marine, and environmental – all the way from Maine to Florida. Currently, conditions are firm.
"Markets are as tight as a drum right now – some of which no longer exist in Florida anymore," says Burrous. "They reacted more than we anticipated with Hurricane Ian coming through Florida, basically shutting things down in terms of writing anymore in Florida, South Carolina, Georgia and North Carolina."
And Peddle says the P&C marketplace continues to be firm, putting retailers in a position where they have to rely on the wholesale marketplace more and look for alternatives.
"It's definitely the hardest market that I've lived through," says Peddle. From a property cap perspective, he says, they've seen significant rate increases of 30% to 50% coupled with 50% to 100% increases in retentions. Appetites are tightening. And he doesn't anticipate many changes in the near future.
Meanwhile, Grossberg echoes those sentiments.
"I see capacity drying up all over the place," he explains. "A lot of capital is not coming into the business the way it was in the past. And I think that over time, we'll continue to see capacity constraints leak from the cap markets into the property and general liability markets. We're starting to see it.
"It's a good and bad situation. We're finally getting price adequacy in some lines of business, which has been eluding us as an industry. But we'll see how long it lasts."
"It comes down to people and the people behind the scenes. We think we have some really special folks who know their products incredibly well, and we try to line up each product with an underwriter who's best in class"


Matt Grossberg, Integrated Specialty Coverages